Celebrate National Book Lovers Day With These Dog Friendly Reads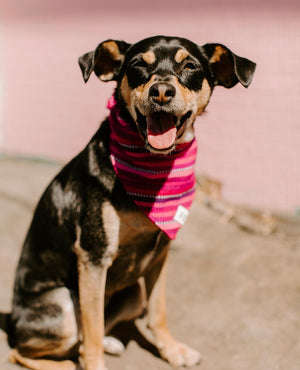 From road trips to unexpected adoptions, these stories tear at our heart strings, make us laugh, and remind us of the joy our canine companions bring. Brew a cup of tea, grab a Sam & Nala Cotton Throw, and cozy up with one of these dog friendly reads this National Book Lovers Day. 
Jonathan Unleashed- Meg Rosoff
Set in Manhattan, this charming comedy tells the story of Jonathan Trefoil, a young New Yorker seeking happiness and clarity in what his future holds. After agreeing to dogsit his brother's border collie and cocker spaniel, his world view is turned upside down. 
The Mountaintop School for Dogs and Other Second Chances- Ellen Cooney
The Sanctuary, a training school and rescue center, is a refuge for both dogs and humans seeking hope. Evie, who has lied to get into the Sanctuary's training program, must pretend she knows more about dogs than she actually does, but Evie learns fast in this chronicle of humans and canines finding their place in the world. 
After losing her best friend and mentor, an unnamed novelist adopts the great dane he left behind. Fearing eviction (dogs aren't allowed in her apartment) and obsessed with her new pup's care, the novelist embarks on a journey of grieving, healing, and developing an unbreakable bond with her furry friend.
Off the Leash: A Year at the Dog Park- Matthew Gilbert
A must-read for those who frequent their local dog park, Off the Leash paints the portrait of the eccentric owners who gather in Boston's Amory Park. 
Dogtripping: 25 Rescues, 11 Volunteers, and 3 RVs on Our Canine Cross-Country Adventure- David Rosenfelt
When mystery writer David Rosenfelt decided to move his family and dogs (all 25 of them) cross country from Southern California to Maine, he believed he was well prepared. This hilarious story recounts the hectic road trip, the incredible efforts his adventure took (imagine all that dog kibble!), and the creation of his dog rescue foundation, the Tara Foundation. 
Lily and the Octopus- Steven Rowley
When Lily, Ted's elderly dachshund, develops health issues, Ted commits to saving her no matter what it takes. His magical adventure highlights the power of love and the admiration in fighting for those dear to us. 
In 2002, the Levin family took their terminally ill cat to an animal hospital to be put to sleep. They returned home with Oogy, a one eared dog with a face covered in scar tissue, who had run up to them in the waiting room and captured their hearts. This heartwarming tale recounts their life with Oogy, rescued from dog fighting and given a second chance in a loving home. 

A Big Little Life: A Memoir of a Joyful Dog Named Trixie- Dean R. Koontz
When Trixie, a retired service dog, was adopted by Dean and Gerda Koontz, their life changed forever. Inspired by the pup that lived in the moment and gave everything her all, Dean and Gerda relearned to trust their instincts while living in a state of wonder every day. 
Merle's Door: Lessons from a Freethinking Dog- Ted Kerasote
Ted met Merle, a labrador mix living in the wild, on a camping trip. After bringing him home Ted saw Merle's wilderness instincts begin to fade living in the human world, so he installed a doggy door allowing Merle to come and go as he pleased. A touching tale of a man and his dog and a discussion on animal consciousness, behavior, and human-dog partnerships. 
Travels With Casey- Benoit Denizet-Lewis
A story of travel and adventure for those itching to hit the open road. Benoit Denizet-Lewis and his nine year old labrador mix, Casey, spent four months visiting 32 states and putting 13,000 miles on a rented motorhome. The travelogue recounts their cross country adventures and the friends they met (both furry and human) along the way.
---